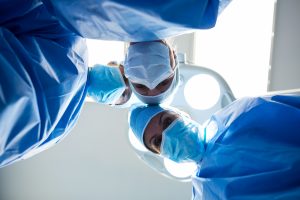 Pośród ponad 300 tysięcy chorych na epilepsję jedynie u dwóch trzecich pacjentów udaje się uzyskać pięcioletnią kontrolę napadów padaczkowych za pomocą farmakoterapii. Wśród chorych, u których napadów kontrolować się nie da, tylko 25-50%  może być poddane operacji neurochirurgicznej. Operacje takie, w Polsce i na świecie, przeprowadzane są różnymi metodami, za pomocą odmiennych technik chirurgicznych i technik obrazowania mózgu. Coraz częściej mówi się o nich, jako szansie dla osób, które wcześniej nie mogły liczyć na pełne wyleczenie. Jakie metody stosuje się dziś na świecie i czy w Polsce wkrótce będziemy mogli z nich skorzystać?
Kto może być poddany operacji neurochirurgicznej?
Pomiędzy 6 a 10% pacjentów z epilepsją ma zdiagnozowaną padaczkę lekooporną. Dla takich właśnie osób, po wielokrotnych próbach zmian leczenia, dobieraniu nowych połączeń lekowych i terapeutycznych, wizja operacji staje się jedyną szansą na długotrwałą remisję. Potencjalnymi kandydatami do takiego leczenia padaczki są też chorzy z napadami częściowymi prostymi z precyzyjnie określonym ogniskiem padaczkorodnym, którego usunięcie jest możliwe i nie spowoduje powstania u pacjenta tzw. ubytków neurologicznych. Ponadto często rozważa się ją u osób, u których napady padaczkowe znacznie obniżają jakość życia. [1]
Co nowego w neurochirurgii?
Niestety, pomimo rozwoju technik operacyjnych oraz metod obrazowania skuteczność zabiegów neurochirurgicznych nie zmieniła się znacząco od ponad 20 lat. Według statystyk tylko 20-40% pacjentów poddanych operacjom neurochirurgicznym uzyskuje poprawę. Warto jednak podkreślić, że aż do 60% z nich (tych, u których operacja przyniosła pozytywny rezultat) uzyskuje całkowitą remisję- to znaczy, pozbywa się napadów na zawsze. [2] Taki stan rzeczy przypisuje się temu, że leczenie przeciwpadaczkowe za pomocą farmakoterapii jest znacznie lepsze niż 20 lat temu i liczba pacjentów z padaczką lekooporną spada, a tylko coraz bardziej skomplikowane przypadki poddawane są operacjom.
Obrazowanie
SEEG
Jest to technika wykorzystująca elektrody umieszczane na powierzchni mózgu, które pozwalają w dokładny sposób zlokalizować miejsce inicjujące napad padaczkowy. Po 4-6 tygodniach od badania ustala się datę operacji neurochirurgicznej mającej na celu usunięcie tego miejsca. Dużą zaletą tego badania jest to, że skuteczność detekcji miejsca wywołującego napady padaczkowe, nawet w bardzo głębokich częściach mózgu, jest dużo większa niż na przykład w EEG. Dodatkowo badaniu mogą zostać poddane już dzieci od drugiego roku życia. Równocześnie, wraz z techniką Ablacji Fal Radiowych (małoinwazyjną, niewymagającą narkozy) daje bardzo dobre efekty- niemal połowa pacjentów zoperowanych z zastosowaniem tej techniki zanotowało spadek liczby napadów padaczkowych o co najmniej połowę.  Niestety, jeszcze nie jest wykorzystywana w Polsce.
PET/SPECT
Są to stosowane w Polsce metody, które pozwalają na wykrycie w mózgu obszarów odpowiedzialnych za napady padaczkowe. Wykorzystują one fakt, że w ognisku padaczkowym występuje zwiększony metabolizm tkanek- dzięki temu " świeci" on na tle pozostałych części mózgu.
Metody chirurgiczne
Neuroablacja
Jedna z najmniej inwazyjnych technik operacyjnych, zwłaszcza jeżeli trzeba dotrzeć do najgłębiej położonych części mózgu.  Dzięki dobrej nawigacji, tak zwanej stereotaksji, można bezpiecznie doprowadzić narzędzia do konkretnego miejsca w tkance mózgowej i przeprowadzić zabieg bez uszkadzania tkanki czy naczyń "po drodze".  Sprawdza się również w usuwaniu guzów nowotworowych, które również mogą powodować padaczkę.
Neurostymulacja
Stymulacja nerwu błędnego i nerwu trójdzielnego są stosowane w opiece nad pacjentami, którzy nie są kandydatami do operacji chirurgicznej mózgu. Stymulacja nerwów prowadzi do dezaktywacji ich jąder w tkance mózgowej, które są modulatorami impulsów nerwowych na wielu poziomach. Dzięki temu, napady padaczkowe pozbawione są przykrych objawów takich jak tachykardia, pocenie się, ślinienie się, oddawanie moczu, a u niektórych pacjentów zmniejsza się także liczba samych napadów.
Kto ma największe szanse na całkowite wyleczenie?
Według metaanalizy przeprowadzonej przez międzynarodowy zespół naukowców w 2005 roku, najbardziej skuteczną metodą, która powoduje przynajmniej 5-letni okres beznapadowy jest neurochirurgiczna resekcja (wycięcie) ogniska padaczkorodnego znajdującego się w płacie skroniowym- aż 66% remisji. Kolejno ciemieniowego i potylicznego- 46%, a przecięcie ciała modzelowatego 35%[3]. Oczywiście dotyczy to osób, u których ognisko wywołujące padaczkę znajduje się właśnie w tych powyższych płatach. Inne metody opisane w artykule nie są jeszcze dokładnie przebadane lub są w fazie eksperymentalnej i możliwe że będą dostępne w przyszłości. Natomiast, skuteczność VNS jest bardzo podobna do skuteczności leczenia nowymi lekami przeciwpadaczkowymi, to jest 15-17%. Dodatkowo, u ponad 60% pacjentów dochodzi do zmniejszenia o prawie połowę liczby napadów, co znacząco poprawia komfort życia.
Jakie są odległe skutki operacji neurochirurgicznych?
Wielu rodziców dzieci chorych na epilepsję obawia się, że resekcja płatów mózgowych czy inna ingerencja w tkanki mózgu może spowodować uszkodzenia, które uniemożliwią normalne funkcjonowanie ich dzieci.  Mało jest badań, które opisywałyby wieloletnie obserwacje po dokonanych zabiegach, natomiast opublikowany w 2015 roku w "Brain" artykuł oceniający pamięć dzieci poddanych operacji płata skroniowego pozwala ocenić, że operacja nie ma negatywnego wpływu na te funkcje mózgowe, takie jak pamięć czy inteligencja. W przypadku osób starszych, dochodzi do ubytków, jednakże nie są one znaczące i zależą od początkowego stanu pacjentów.
Czy leczenie operacyjne padaczki będzie kiedyś normą?
Nowoczesne metody obrazowania mózgu pozwalające na dokładne określenie miejsca inicjowania napadów i coraz lepsze techniki operacyjne oszczędzające tkankę mózgową przed uszkodzeniem są nadzieją dla wielu pacjentów cierpiących na epilepsję. Wciąż prowadzone są badania- gdyż ciężko jest przewidzieć ich odległe skutki. Życzmy sobie, żeby dzięki ich rozwojowi, wkrótce możliwe było całkowite wyeliminowanie padaczki z naszego życia.
Literatura:
[1] B. Kaczorowska, M. Pawełczyk, M. Przybyła, Surgical treatment of epilepsy, Aktualn Neurol 2012, 12 (3), p. 159–163
[2] M. Nowell, A. Miserocchi, A. McEvoy, J. Duncan, Advances in epilepsy surgery, J Neurol Neurosurg Psychiatry. 2014 Nov; 85(11): 1273–1279.
[3] J. F. Te´llez-Zenteno, R. Dhar, S.Wiebe, Long-term seizure outcomes following epilepsy surgery: a systematic review and meta-analysis,Brain (2005), 128, 1188–1198
Obraz załączony w tekście pochodzi ze strony: http://pl.freepik.com/darmowe-zdjecie/lekarze-patrząc-na-kamery-w-sali-operacyjnej_1008465.htm'>Designed by Freepik